4 WHEEL ALIGNMENTS $39.99 most cars, BRAKES START AT $99.99 per axle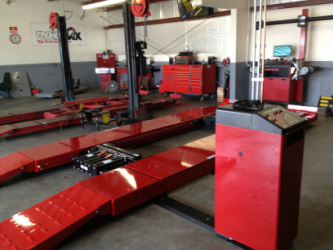 We are a full service auto alignment shop. We Specialize in 4 Wheel and Custom Alignments from 12" to 28" Wheels. We do Steering Wheel Sensor Reset and Calibration including BMW, Mercedes-Benz, Audi/Volkswagon and all Domestic and Asian Cars Equipped with Traction Control, and full Brake service for your Foreign and Domestic cars and trucks
We do all Suspension Repairs
Alignments 12" to 28" (Trucks up to 16 thousand lbs)
Struts
Shocks
Control Arm Bushings
Wheel Bearings
Hubs
Brakes (we turn are own brake rotors here at the shop)
Ball-Joints
Tie-Rod Ends
Wheel Balancing
Sway Bar Links
U-Joints
Axle Seals & Bearings
Rack & Pinion (Steering)
Gear Box (Steering)
Power Steering Pumps
Tire Mounting and Match Balancing
Tire Repair
We now Sell Tires
(Brake work includes replacing pads or shoes and turning rotors, packing bearings, bleeding the brake system and inspecting the remainder of the brake system)
($39.99 does not include alignment kits or labor, or steering calibration.)
(European and Exotic Cars start at 49.99 and up..)
Alignments and Suspensions
Your vehicle's alignment and suspension service needs will vary based on the type of vehicle that you drive and the type of surfaces that you drive over. For example, a vehicle that is used for off-road driving may require more frequent alignment and suspension services than a vehicle that is used for highway driving. Any time you travel over a bump, you should take time to slow the vehicle down to protect your alignment and suspension. However, all vehicles should have their alignment and suspension serviced at least every 10,000 miles or at least every year. At Aline Automotive, we utilize Hunter Alignment Machines to provide you with accurate, affordable services. We have already completed over 16,000 alignments for local customers, and with our three month or 3,000 warranty on these services, you can rest assured that we will provide you with
quality results that you can count on. With an inspection, we can help you to determine which services are needed for your vehicle today.
Brakes
Just as your vehicle's alignment and suspension will need to be serviced periodically for optimal performance on the road, the same holds true for your brakes. Generally, you will be able to tell when your brakes require servicing. For example, you may notice that it takes longer than normal for your vehicle to slow down, or you may feel them grinding or hear them squeaking when you apply
pressure to the brake pedal. When you are not certain if a service is required, you can contact Aline Automotive for a brake inspection. Our knowledgeable technicians can inspect your brakes to determine what the source of your concern is, and we can remedy the situation with quality results and fair rates. Our brake services start at $99.99 per axle, making us your best choice
for affordable services for your cars.
---
Free Alignment Checks